Services
GLOBAL PRINT SOLUTIONS
Global Print Solutions is a well-established workflow enabling publishers to reduce costs in shipping, at the same time significantly reducing a publisher's carbon emissions, whilst increasing speed to market on fulfilling international sales.
The solution has been developed in partnership with an integrated network of global printers across the entire world. It has been tried and tested over a number of years, and found favour with many publishers.
Instead of managing multiple vendors, feeds and files individually, we set up one file catalogue within our DAM and simultaneously manage global print via one order feed. Delivering simultaneous product worldwide. All products are available including mono, 2 & 4 colour, hardbacks, paperbacks, books and journals on varying substrates.
Reduce costs in shipping

Reduce carbon emissions by printing locally

Increase speed to market and publish simultaneously in different territories

Free up working capital and minimise risk by reducing inventory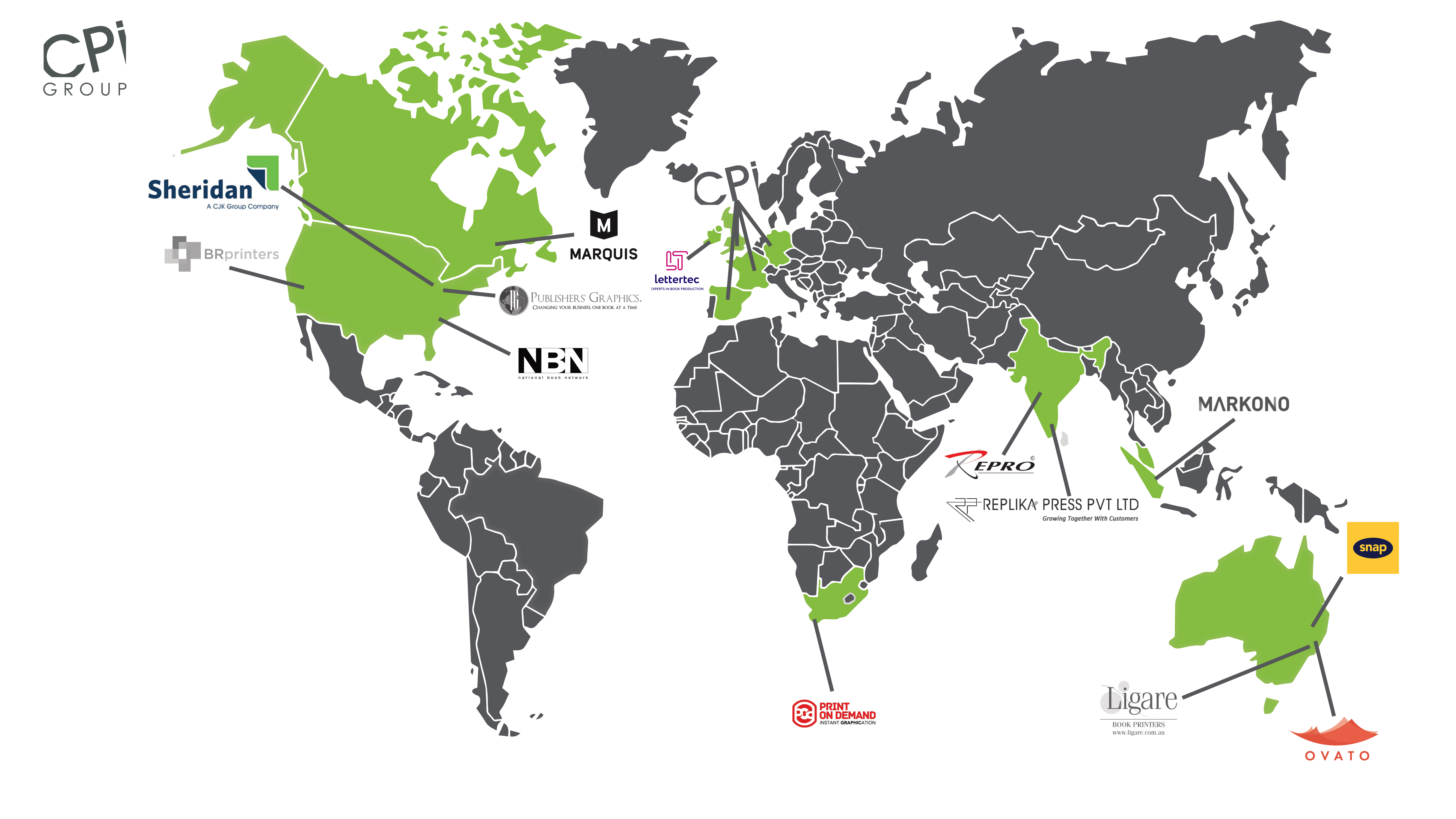 Do you need the best global print network?
GPS has partnerships throughout the world with leading digital-printing professionals, and offers you a unique and transparent service: "one order, one invoice, one file". This solution has been developed with top printing experts: BR Print, Sheridan and Publishers Graphics in the United States, Griffin Press and Ligare in Australia, Replika Press in India, and Markono in Singapore.
Do you need a simpler and cost-effective process?
With CPI, there is no need to place several orders for the same book to have it delivered in different countries. Everything becomes simpler: you place a single order, showing the quantities you need in each region.
We make your file available throughout the world so it is printed locally by one of our GPS partners, close to the end user. Your books (paperback, hard cover, sewn or spiral-bound) are manufactured by our partners following identical inspection and quality criteria.
Do you need a solution that combines economy, quality and security?
With GPS, you have three advantages:
Less expensive: your delivery costs are lower because you print near the recipient
Simpler: one invoice, one contact
More reliable: CPI guarantees you trustworthy and reliable partners with whom they have worked for several years.